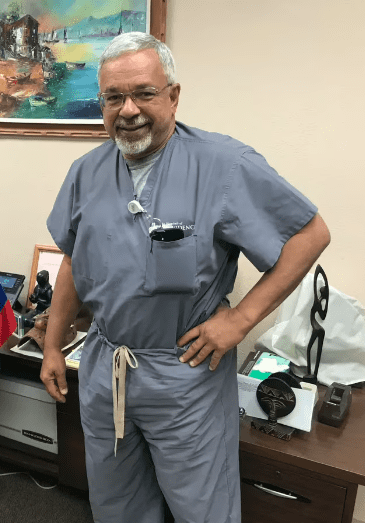 How New Mexico is poised to become a haven for abortion access
The Globe and Mail
By Adrian Morrow
May 21, 2022 – full article
How New Mexico is poised to become a haven for abortion access
In the nearly 50 years that he's been performing abortions, Dr. Franz Theard has put up with persistent intimidation. Anti-abortion activists have blockaded his clinic, picketed in front of his house and burst into his waiting room, hurling abuse at patients through a megaphone. His children were even bullied in school.
But Dr. Theard is undeterred. A bearded, bespectacled 73-year-old, he says his long-held political principles won't allow him to back down.
"I'm to the left of Che Guevara," he says with a laughas he sits in his office at the Women's Reproductive Clinic of New Mexico. "I'm a secular humanist. I believe in one rule: Treat people the same way you want to be treated."
Plus, Dr. Theard has long provided his services in a place where they are particularly hard to access. He spent most of his career in El Paso, Tex., even as a series of state laws made it increasingly difficult to keep a clinic open. Ultimately, he decamped 1.5 kilometres across the state line, to a suburban office park in New Mexico, where there are no restrictions on abortion.
Since last year, when Texas effectively banned the procedure after six weeks, demand for Dr. Theard's help has skyrocketed. "In April of 2021, we did 180 abortions. Last month, we did 280," he says. "People come in from Houston, Dallas, they spend eight hours to get here."
This experience is a preview of the likely future of abortion in vast swaths of the United States. A leaked Supreme Court draft ruling shows five conservative justices are planning to overturn Roe v. Wade. If that happens, more than 20 states are poised to enact abortion bans, and the cross-border work of providers such as Dr. Theard will become increasingly vital.
It also spotlights the central role New Mexico would play in preserving access.
A desert state of 2.1 million, it is frequently overlooked as a beacon of reproductive rights, overshadowed by the metropolises of the northeast or the West Coast. But New Mexico has one of the country's most liberal abortion laws, even as it borders four states – Texas, Oklahoma, Arizona and Utah – that have either banned the procedure or plan to. This week, Oklahoma lawmakers passed the country's strictest law yet, forbidding all abortions from the moment of conception.
Anticipating the Supreme Court decision, New Mexico's legislature and governor last year proactively repealed the state's 1960s abortion ban, which would have gone back into effect if Roe were overturned. The state's new law allows for abortion without restrictions. There are currently six clinics in operation.
Micaela Lara Cadena, a state lawmaker who sponsored last year's abortion legislation, says many of her colleagues doubted that a largely rural, often culturally conservative state would accept unfettered abortion access. The key to proving otherwise, she says, was to have the message come from people such as her: a Catholic, Hispanic mother of two.
She faced pushback at mass, when men would approach her to say she wasn't a true Catholic. But most people backed her efforts, she says. When she told her priest she planned to sponsor the bill, he told her simply to vote her conscience.